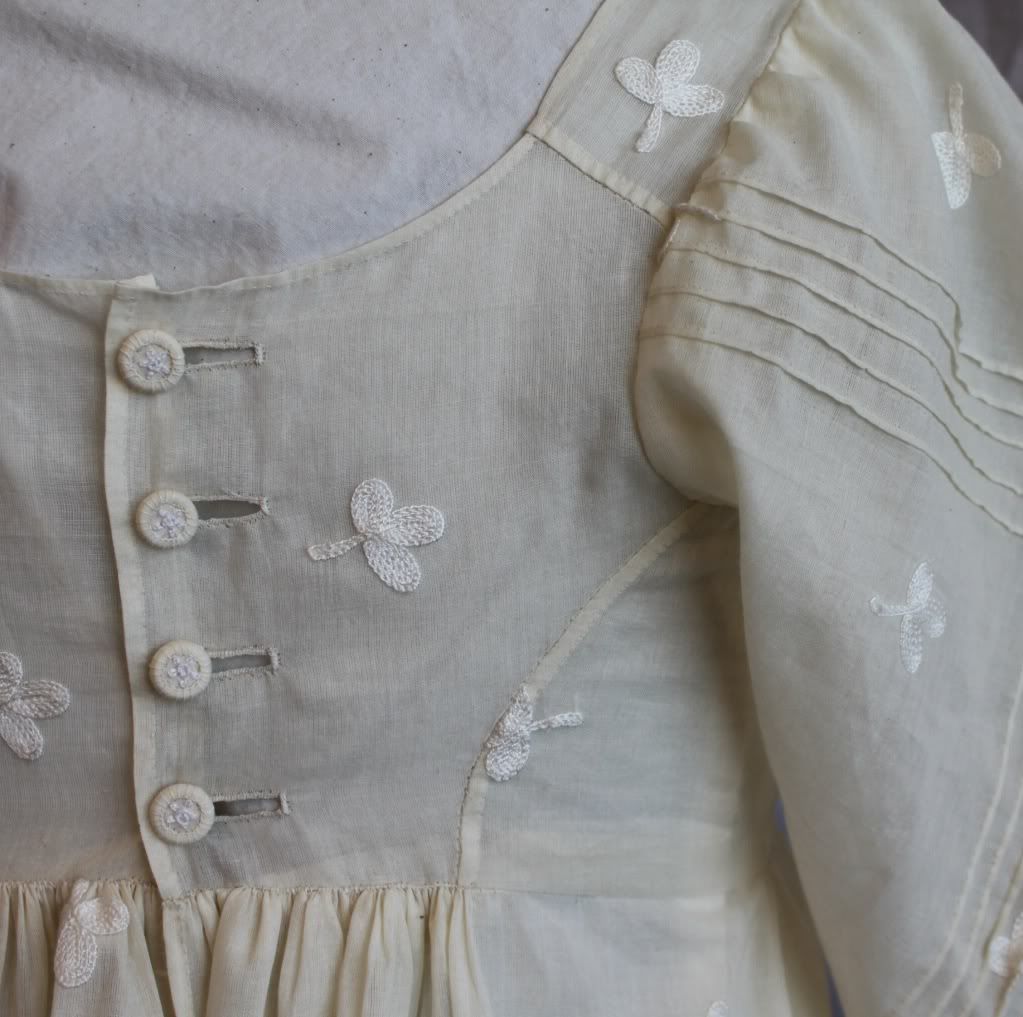 Pin-tucked Muslin
This gown is based on an original at the Metropolitan Museum (this one, acc. 2009.300.1806). It is made from a fine cotton muslin embroidered with tambour work, the bodice and sleeves accented by dozens of tiny 1/8" (3mm) and 1/16" (2mm) pin tucks. The back is fastened with embroidered dorset buttons, which also accent the center front and shoulder straps. All of the gown is hand-sewn, including the long skirt seams and buttonholes.
The front bodice was completed first, with twelve 1/8" pin tucks made across it. It was then gathered down towards the tiny button. The side bodice pieces that it attaches to continue up over the shoulders to overlap the back. This is done with another button and buttonhole. The back is fastened with four dorset buttons, a little larger than those on the front and shoulders. I embroidered all of the dorset buttons to match the fabric, then gathered them over a bone ring with a small amount of padding inside, and finally buttonhole stitched them around the outside edge.
The sleeves were also pin-tucked, although I found the 1/8" too bulky, so after removing those, used 1/16" instead. There are ten intersecting pleats on each sleeve. The sleeve hem was finished with a drawstring to achieve the proper puff. The skirt is made of five panels, all widening towards the bottom to accommodate the hips without pulling, giving a finished hem of 156" (396cm). All of the fullness is concentrated in tiny gathers at the back. The waist seam has a drawstring in front to pull the gown in towards the underbust.
The most difficult part of the gown was working the buttonholes on such a thin fabric. The pleats were very monotonous and difficult to keep in straight lines as well. I gave up on tracing a pencil line for placement and started using the tiny fibers to give me a straight line. The sleeves are actually cut on the bias for that reason. I also discovered another problem while in the process of trying on the gown bodice. My usual undergarments of a shift and corded corset were completely visible through the sheer fabric and would not allow for the necessary wide neckline. After a great deal of research and problem solving (including constructing a separate bodice which did not work), I came to the solution of an underpetticoat with a sleeveless bodice made to match the lines of the gown. The back and straps were cut to match the gown almost exactly, with the bodice front being drawn up with a drawstring instead. At some point I might try making a colored underpetticoat with sleeves to vary the gown style.
More details in my Dress Diary, on my blog